About the Work
My work is motivated by a desire to explore the reasons and rituals of human behavior and expectations.
I understand sound as being an exceptional medium through which to examine these rituals in that -- unique amongst art forms -- it remains unrepresentable in the instant.
Sound, therefore, is inevitably sutured into a relationship with the temporal, as are we.
When we commit to listening to -- or hearing -- sound, we enter an implicit transaction with the resources of our existence.
The seductive nature of the image particularly when objectified and commodified, is an easy panacea for the questions posed by materiality. Where I use images in my work it is for better illustration of temporal themes, such as the mapping of linear time onto lines of text. The use of sound both in and with my work acts as an ongoing examination of, and reflection on, conceived notions of linear time: how these have an implicit relationship with values of authority, of gender and of definition.
My work understands the human experience of time, and of existence, as being akin to a dominant/submissive relationship. After Hegel, there is also an implicit recognition of the interdependence or co-dependence of both participants in the relationship, and of an interchangeability.
These aspects are examined through tropes of cycles, ecstatic submission, inevitability (fate), and ritual. I also understand ritual (whether it be sacred, sexual, or mundane activities such as commuting) as being analogous to frequency of repetition or cycles: a further identification with sound.
About the Artist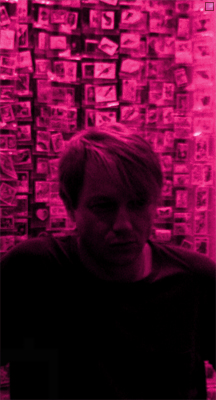 I am a 35-year old Bristol-born British artist based in North London.
Purity Charge (or puritycharge) is a pseudonym.
For 13 years, I traded financial derivatives based on time, currencies, and interest rates in the City of London and Zurich, Switzerland.
In 2006, I graduated with a BA (Hons) distinction in Sonic Art at The Landsdowne Centre for Electronic Arts at Middlesex University.
I am currently studying for a Master's degree in Audio and Visual Culture at Goldsmith's College, London.
I work across media, concentrating on auditive elements in my work.
I work with anything that comes to hand, from voice or guitar pedals to found objects; from electronic hardware to self-produced software using the Max/MSP programming environment. I use the same software platform for video processing of video footage.
Sound Works
Narrative Triptych:
Video Works
Written Works
pdf document
36 pages
2006
Future Projects
I am currently working on 'Black Son': a multi-stream audio diffusion which involves a re-reading of essays by author/psychologist Julia Kristeva as mystical text.
Two texts will be afforded contrasting processes. The first, read solely by women, will be edited away from temporal narrative coherence. The processed streams will explore the boundaries and relationships between space, mysticism, and sound poetry. A second text, read by just one man, will be placed in sonic juxtaposition and will emphasize a defined linear form of narrative.
The work will draw on concepts of stitching and of weaving, translating these into sound space and time.
The finished work will be presented as 5.1 DVD audio. Alternatively, it may be arranged as an installation.
Please contact me if you wish to be involved either as a vocal participant or you wish to commission the work for a gallery space.
The project started in October 2006.
I am also happy to consider any commissions.
Further Information
The files on the website are provided for free download to your hard drive (right click PC/option click Mac). They are compressed to .mp3 (audio) and .mpeg (video) formats.
The compressed files are intended for reference purposes only, and should you wish to display or broadcast the content, please contact me for uncompressed, higher quality versions.
The .pdf files are written to academic standard and may be used freely; care should be taken to reference these papers correctly.
Contact
For questions/comments/commissions, please contact puritycharge.
For questions/comments regarding this site, please contact administrator.